Introducing the Scribit.Pro Academy
15 March 2023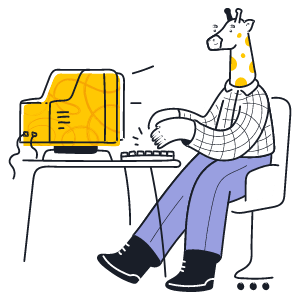 Introducing the Scribit.Pro Academy: how I - as a new Pro -  learned to make texts accessible



How do you make subtitles? What is an audio description? And maybe even more important: what makes these two files a good basis for a transcript? With these questions in mind  I will work through the online learning environment of the Scribit.Pro Academy. Because making videos accessible to everyone is important, but it's also a profession in its own.
As a freelance text editor, I am introduced to image description for the first time. Writing web texts, news items, press releases, making messages for social media and preparing transcripts: I know it all. But this is a completely new world for me. I'm curious how quickly I can master this form of image description. 

I receive a lot of information in the online learning environment. But under the saying of 'hasty speed is seldom good' I calmly get to work. As an experienced transcriber, I can imagine what this job will entail, but it is slightly different. So I take the time to read everything carefully. An explainer video takes me step-by-step through the Scribit.Pro dashboard.

Good example leads to good follow-up, says the next part of the e-learning. Totally agree! Especially if you have no experience with adding subtitles and/or audio descriptions, it is useful to see practical examples and do the exercises. So I watch the videos carefully before I move on in the learning environment. Then, with extensive information about subtitling, audio description and transcription, I learn much more about how to make videos accessible to everyone.
Some important tips:
Making subtitles is like putting together a puzzle: make sure you don't overthink it. You are constantly weighing options and making a choice.
With audio description you make choices in what you do or do not describe, but you must convey the core of what can be seen on screen. You make a video understandable by at least answering the questions who, what, where and when.
It is important to go through your transcript, so you can possibly make it more readable, add the speakers and their function, adjust phonetically written words, give extra image descriptions and/or add other extra information.
Although there is a lot of information to be found, the learning environment still looks understandable and clear because it is divided into different parts. The pages per section are not too long, so you don't have to scroll endlessly and you can go through everything at your own pace, without getting distracted or losing the overview.
Can I get started now?
The e-learning makes everything you need to know clear with textual explanations, practical examples, explanation videos and practice assignments. This mix makes it increasingly clear what you should pay attention to when making videos accessible. Scribit.Pro's dashboard is also easy to use.
All in all, the e-learning has given me all the tools to confidently get started with subtitling and audio description. During the test - which you take at the end of the e-learning - I get to prove myself. I notice here that I'm certainly not immediately a 'pro', especially when it comes to audio description. As someone without a visual impairment, I quite easily forget to describe important images, which are of course very important for a blind or partially sighted person to be able to follow the story. But practice makes perfect, so I have every confidence that it will work itself out.
Sign up to our newsletter